Coach Keith Clark Memorial Project
Dear Fellow MCS Basketball Alumnus,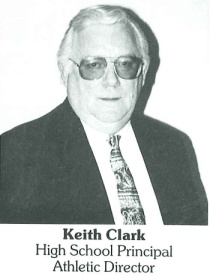 You're getting this letter because at some point in your basketball playing days at MCS, you heard the phrase, "Now, don't just go through the motions!" - Varsity coach Keith Clark. Perhaps he just said that to my team, but I would imagine you recall this and other memorable moments from our time with Coach Clark.
As you may know, Coach Clark passed away on July 27, 2010, in Clarksburg, West Virginia. He left MCS in 1998 after serving as basketball coach for 15 seasons in addition to positions of teacher, athletic director, and principal. His teams won five sectional championships, appeared in two district finals, and he remains the winningest coach in MCS history.
Yet, beyond the games and the wins, I will remember Coach Clark as a man of remarkable character and integrity. He was honest, dependable, confident in his faith, and sincere in his love for God. He chose his words carefully, always wanting his speech to be necessary and productive – never idle chatter. He did his best to model appropriate behavior for his players and we respected his immense knowledge of the game. Few coaches ever achieve this level of God-honoring success both on and off the court.
It's time, as a school family, that we honor Coach Clark and his service to all of us. Last fall, we named our varsity soccer field "Comstock Field" for former MCS teacher and coach, Jim Comstock. This summer, we would like to refinish and repaint the high school gym floor. In doing so, we will name the floor "Clark Court" and paint these words into the new design. We can think of no better way to honor our coach and remember his legacy on both our program and our lives. As a former player, would you please consider helping us with this cause by making a donation to this project? I am only sending this letter to those who played for Coach Clark and will not be asking our current school families to fund this expense. I want this to be a memorial gift to his family from those of us who were fortunate enough to call him "Coach." I believe this is the right thing to do and I hope you will join me by making a donation as soon as possible.
With much gratitude,
Dr. Cy J. Smith, '87
Superintendent
To make a memorial donation towards the $10,000 "Coach Clark" project please make your Donate Here.