Welcome Letter From Mrs. Linda Hoeflich
I would like to introduce myself as your elementary principal. My background in education has been varied. I taught special education classes in the Bucyrus City Schools, taught learning disabilities in the Clear Fork system, and have worked with the Independent Studies program here at Mansfield Christian School for thirty years. I have served as the elementary principal the last four years.
My husband, Jerry, and I homeschooled our four children until high school, at which time they attended and graduated from Mansfield Christian School. We are very blessed that all four of our children have graduated from college and are all married serving the Lord with their families. The great benefit now for my husband and I is having ten grandchildren. What a treat for us-all under the age of ten! The unfortunate thing is that our children live in Arizona, Colorado, northwest Ohio, and Columbus, so we don't get to see them as often as we'd like.
Over the years I've worked at Mansfield Christian, I must say I'm most impressed with the elementary teaching staff. They are very qualified, fun, and excellent educators, some of the best I've ever worked with. The most important thing, though, is that they love the Lord and your children and want them to "know Christ and make Him known." This is the scripture on the cornerstone of our building and a constant reminder of our mission here at MCS.
I have been a Christian since I was twelve years old, when I gave my life to the Lord at a Billy Graham crusade. Over the years, my husband and I have seen God's faithfulness time and again. I have realized more the last couple years that this world is not our home and that Jesus is soon to return so that we will forever be with Him. My greatest desire is to hear Jesus say, "Well done, thou good and faithful servant."
I look forward to walking this journey of life together this year. I will be praying for you this school year and also appreciate your prayers for me. We serve an awesome and powerful God, able to do "far more than we can ask of think."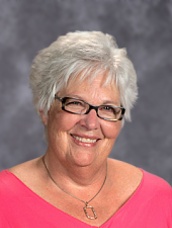 Linda Hoeflich
Elementary Principal
419-756-5651 ext 239